You can click here to see how often an average Democrat would be expected to lose each individual race to an average Republican at each job approval interval.
The next step is to total up our simulations, showing how frequently Republicans would win the Senate at each job approval interval for Obama.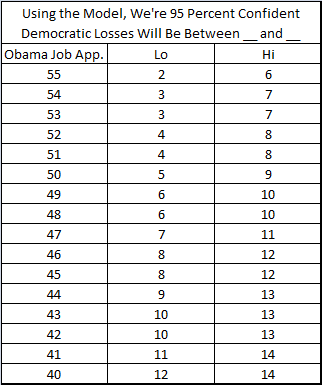 This is a grim picture for Senate Democrats, suggesting that the president would have to get his approval above 50 percent by Election Day before they would be favored to hold the chamber. This is also consistent with what we've seen in polling, which shows the seven "red state" Democrats in truly severe states of distress, while Democrats in Iowa, Michigan, New Hampshire and Colorado are exhibiting surprising weakness.  If these 11 seats are showing similar signs of weakness in November, Democrats will have an extremely difficult time holding the chamber.  At Obama's current 44 percent approval rating, we'd expect Democrats to lose somewhere between nine and 13 seats.